Our Founder's Vision Becomes our Mission.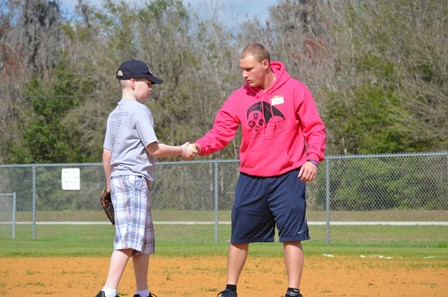 Owen was born with a few congenital birth defects that were not visible to others. There were, however, activities that he was not allowed to participate in due to those defects. Being left out is never a good feeling. Missing tons of school for surgeries and testing makes it difficult to build friendships. Owen was often picked last for sports, despite being athletically inclined and was bullied by his peers. When he was 10, he discovered Scouting, a place where he made lifelong friends while developing incredible life skills. When he was 11, he discovered baseball, a game in which he quickly excelled. 'Turn the other cheek' and 'be kind to others' are not just mottos we teach our kids; it is how Owen has always chosen to live his life. Even as his peers we relentless in their cruel words and actions, he stayed true to who he was; kind to everyone.
In 2010, Owen's health started to become more of a challenge. Life is always a blessing or a curse, depending on how you looked at it. He had 15 surgeries that year. Owen took this opportunity to focus more on finding an idea for a meaningful Boy Scouts of America Eagle Scout Leadership Project. He was looking for a way to be kind to his neighbors in a meaningful way.
That summer he was watching MLB's pre-All-star events and saw a segment where the best in the game were buddied up with special needs athletes from the Little League's Challenger program. That seemed like a great program. He was in the doctor's office having testing done the next day when the news of George Steinbrenner's passing came across the TV. Mr. Steinbrenner has always been considered a hero to Owen and his family, and an inspiration to the people living in the Tampa community. Owen learned about the powerful impact and plethora of community outreach Mr. Steinbrenner and his family had contributed throughout his community. As a fourth-generation Yankee fan, Owen has grown up hearing the stories from his mom about how his great grandfather had taken his grandfather and his grandfather had taken his mother to Yankee Stadium many times each season since the time she was five.
Fields of Friends™ was founded by High School sophomore Owen Sarwatka in 2010. Owen developed his Leadership Project "Everyone Can Play!" as a conduit to channel his passion for baseball with his desire to share this experience with people who never had the opportunity to play the game that he loves. Children with disabilities are 3 times more likely to be bullied and excluded. Owen knew how it felt to be excluded and had a strong desire to create a program of acceptance and inclusion
Owen decided to work with the Little League Challenger Divisions in Tampa, to hold a one-day Baseball Skills Clinic that buddies up area mentoring High School athletes with all special needs athletes of any age. This camp gave our high school athletes an opportunity to give back to their community, continuing to honor the memory of Mr. Steinbrenner's giving spirit. Our mentors develop their leadership and mentoring skills that benefited Challenger athletes by being able to work with more experienced players. This program brought more persons with special needs into a safe and inclusive space through baseball.
Fields of Friends™ 'Everyone Can Play' held its first even on January 15, 2011, in Valrico, Florida. The day was a great success and included the participation of over 300 high school athletes from 12 area high schools, special needs children, adults, and volunteers. The support from his peers made the day the success that it was. There were 16 special needs participants out of the 40, that had never played baseball before. All 40 signed up for a Challengers Baseball program because of this event. The volunteers excelled in their efforts and were grateful for the opportunity to support the cause.
Owen was awarded the Eagle Scout rank and learned that his project was the largest ever in the Gulf Ridge Council, a council including 17 Florida counties. The project had the most volunteer hours registered with 2185.5 with over 300 community volunteers over a 7-month journey and raised $2500 for the event, being the largest budget as well.
During our second year Owen faced some serious health challenges but was still riding high from the impact of the program that he created. He was in the hospital 5 of the 8 weeks before the second event. His focus remained on the faces of the people that he was impacting. His community mentors kept saying that 'people would understand if you didn't have this event'. This made him more determined to be a good neighbor and continue to honor the memory Mr. Steinbrenner. This dedication to inclusion within his community garnered the attention of the New York Yankees; who awarded him the HOPE (Helping Others Persevere & Excel) Award. Fields of Friends™ became a 501(c)3 organization in 2012. After 22 surgeries, Owen is healthy and happily achieving his goals.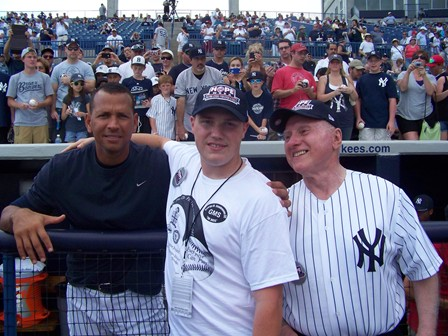 Fields of Friends™/Everyone can Play has been blessed with each event, to have had volunteers from Owen's mothers' high school graduating class year after year. Having friends that Suzanne had not seen in years come from other states to help make each event special, we knew that we were making a difference and educating high school athletes about the challenges that their special needs peers face and how to show empathy, kindness, and understanding.
Today we are expanding our mission of inclusion by leveling the playing field for all vulnerable people in our community, especially our youth. We have developed an innovative new program that will connect groups with positive and productive community-driven events. We are calling this our 'Being Good Neighbors' campaign. We are planning our first 'Be Good Neighbors' event on August 14th, 2021 in Jefferson Twps., New Jersey. We are reaching out to the JTHS Class of '86 and the classes of the 80's for their assistance. We will encourage you and your significant other and your children/grandchildren to join us. Together, let's build a great event and change the way we have a reunion as a class. We will work with Harvest Pack to full food pantries and local schools. Together we can identify food-deprived areas and students and fill a need. The food packaged at our event will be put into teachers' hands so that teachers can identify students who may not have inadequate food over the weekend. Teachers can then discreetly put a package of meals in a students' backpack so that they have food for the weekend. We are still special needs baseball and high school leadership & mentoring and growing. We hope that your group will join us for an exciting new way to have a reunion or organization event. Let's be good neighbors- One Kindness at a Time.