Individual Commitment to a Group Effort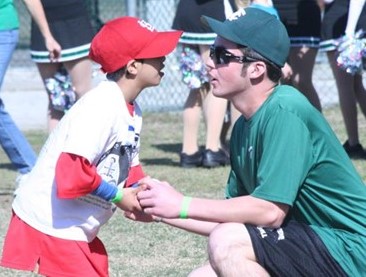 Mission:
We are excited to have expanded our mission beyond its original design. We now include even more outreach to the most vulnerable. Our founder, Owen had a dream to inspire his peers to better versions of themselves and to generously share those versions with their neighbors and community. This was the start of Everyone Can Play. This creative program has since blossomed into Fields of Friends™. Creating "cultures of inclusion, so that no one is left behind" is a key to a brighter version of our world.
OUR MISSION:
To serve, empower, connect, and improve communities with positive and productive service projects to encourage acceptance and inclusion of all of its members.
The following strategies are incorporated into each Fields of Friends™ initiative:
– Collaborate with our youth, creating a world of acceptance and inclusion.
–Present unique opportunities that develop purpose-driven leadership in our youth while creating opportunities for adults to mentor.
–Host positive and productive events that expand community empathy and deepen understanding, resulting in problems solved.
–Empower youths to use their voice and actions to create positive social change in their communities.
– Motivate youths to hearts of generosity, then becoming the seeds of service-driven communities.