Empathy, Understanding, Solving Problems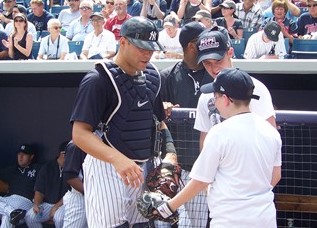 The Yankees announced on March 23, 2012 before the Grapefruit League game in Tampa that HOPE Week will return for the fourth consecutive season. HOPE Week (Helping Others Persevere & Excel) is a social program that illuminates five stories intended to inspire individuals into action in their own communities. HOPE Week is rooted in the fundamental belief that acts of goodwill provide hope and encouragement to more than just the recipient of the gesture.
In the spirit of the initiative, the Yankees honored Owen Sarwatka, 17, who as a sophomore in 2010, was inspired to create Fields of Friends™ a nonprofit, volunteer-run, baseball skills clinic for people with physical and/or intellectual disabilities.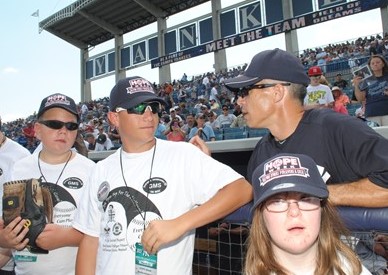 Owen, his parents, Suzanne, and Frank, along with participants and volunteers from Fields of Friends™ were guests of the Yankees at Steinbrenner Field prior to the Yankees' game vs. the Twins. The group took batting practice on the field, followed by an on-field ceremony in which disabled players and their mentors stood side-by-side with Yankees players during the national anthem. Owen delivered the Yankees' lineup card to the umpires and threw out the ceremonial first pitch.